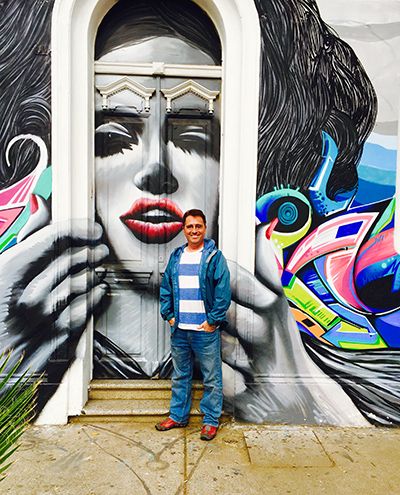 Ken Ross is an independent commercial/editorial photographer shooting in both Phoenix & Los Angeles. He specializes in travel/location, people and corporate photography. Educated in the U.S. and Switzerland, Ross began his photography career while residing in Sydney, Australia in 1985.
His work has taken him to 107 countries. Ken has photographed for various travel guides such as Frommers and Fodors including such locales as : Las Vegas, Washington DC, Oahu, Costa Rica, Puerto Rico , Puerto Vallarta, Quebec Provence and Miami. Ken's photographs have also appeared in hundreds of books published in the U.S. and Europe, including his own book project, "Real Taste of Life." His work has been exhibited in: New York City, Phoenix, Dallas, Taos, New Mexico, Calgary, Tokyo, The Philippine Islands and solo museum exhibit in Mexico.
Some of the many actors photographed on the red carpet include: Elizabeth Banks, Jack Black, Jessica Chastain, Danny Devito, Ben Kingsley, Jennifer Lawrence, Julianne Moore, Oprah, Chris Pine, Mark Ruffalo, Mark Wahlberg, & Reese Witherspoon.
When not traveling he enjoys playing the drums, listening to live music, and collecting works by other photographers.
Corporate
Abercrombie & Kent
Ad Art
All Nippon Airways (ANA)
Allied Signal Aerospace
American Express
Apple Computers
British Airways
Carnegie Melon- Software
Cartier
Chevy
Continental Airlines
Cunard Cruise Lines
Dai-Ichi Kangyo Bank
Delta Airlines
Diawa Bank
Disney
Dunn & Bradstreet
Estee Lauder
Frommers
General Motors
Gruppo Sanpaulo Investing
Gulf Stream Aerospace
Hewlett Packard
Holiday Inn
Holland America
Japan Airlines
K-Swiss Shoes
Mastercard
Kurare-Chemical
MTV- Music Television
The U.S. Navy
Olivian Cosmetics
Polo Ralph Lauren
Sanyo
Singapore Airlines
Scottsdale Princess Resort
Sony
Toppan Printing
Toshiba
United Airlines
Visa
Annabella
Body, Mind & Spirit
Conde Nast Traveler
Dainippon Printing
Der Spiegel
Double Day Books
Elle (French)
Fitness Plus
Fodor's Traveler Guide
Gallery Books
GEO Magazine
Golf Digest
Grolier Encyclopedia
Hallmark Harcourt Publishing
Harlequin Books
Harper Colins
HQ
MacMillan Publishing
Mature Outlook
Meetings & Conventions
Microsoft
National Geographic
Nature & Health
NBC
Helles Verlag Publishers
Newsweek
Parade Magazine
Parents Magazine
Physician's Travel& Meeting
Playboy
Readers Digest
Resorts& Incentives Magazine
Schweizer Illustrierte
Simon & Schuster
Soap Opera Digest
Soap Opera Magazine
Stern
Rand McNally
TV Guide
Women's World Magazine
USA Today
Vista/USA Magazine
Warner Brothers - South America